Cellar Doors Brooklyn
Like many things in life, steel doors also have different level of qualities. You can find cellar door that cost 400-600 dollars, and you can find cellar doors that will cost you 800-1400 dollars. And they both will fit the open you are trying to close. But just like you can find a car that will cost you 5,000 dollars, you can also find cars that will cost you 400,000 dollars. So when we are asked why your cellar doors are more expensive than other cellar doors installers, we answer the same way: There are basement cellar doors we installed in Brooklyn more than 20 years ago, and they are still there, being used every day. And there are cellar doors in Brooklyn installed by other companies, which needed to be repaired or replaced after 3-8 years. So when you choose Brooklyn Garage Doors And Gates, you get quality, that may cost you little more at the moment, but will pay itself after 20 years or more of using the same basement cellar door. Whether it is a steel cellar door in Brooklyn, or garage door installation in Staten Island, when we provide service, we know it for years.
If you are located in Brooklyn, and you are looking for someone who repair and install basement cellar doors, we can help. Brooklyn Garage Doors And Gates specialize in all kinds of steel doors and gates, and of course cellar doors repairs and installation. If you are visiting this article, you probably looking for basement cellar door repair, or maybe for a new cellar door installation in Brooklyn. And you are lucky, since Brooklyn Garage Doors And Gates can do both! And if it is a repair, we can even do that today. (And sometime we even install new cellar door the same day in Brooklyn).
Whether you are looking for someone to install new cellar door for your shop in Brooklyn, or if you are looking for steel door repairs, we are here for you. After years of experience in roll up doors and steel doors in Brooklyn, we can perform any type of iron work, commercial and residential. We repair steel roll up doors, overhead doors, cellar doors and more. We believe that when you are a pro, you should be able with any kind of steel door in Brooklyn, residential and commercial. But we are not limited just to Brooklyn, we often get calls from people who heard about our services, and not once we send a technician to fix rolling gates in Queens, or a broken roll up door in NYC.
What are the benefits of the basement cellar doors?
There are different solutions to different problems. Some people in Brooklyn choose to install a new overhead door, when others choose to install a rolling gate. If you already own cellar doors, or owned a store with cellar doors in Brooklyn in the past, you are probably aware to the qualities that cellar doors offer, so you can skip this paragraph. If not, read more and learn about the qualities that using a cellar door in Brooklyn offer.
Cellar doors are installed in the ground level, usually above the ground and the provide access to places located lower than the ground like basements. Most stores in Brooklyn have, beside cellar doors, also have store front roll up door, which doesn't take any space from the store when it is closed, and at the same time provide security solution since although the cellar doors in Brooklyn are located in the ground level, they are strong and almost impossible to break (Without using power tools), and that makes the cellar doors a great solution for store owners who want to have basement doors that will be both strong, and that will not take any space. And the cellar doors in Brooklyn provide both.
Basement steel cellar doors in Brooklyn come in wide variety of styles, materials and color, so each home owner or store owner in New York can find the nest cellar door for his store. Some people consider installing cellar doors by DIY, instead of hiring a professional technician for the job. The thing is that cellar doors require knowledge that goes above the basic knowledge that common handyman may have, since they include welding and heavy duty power tools, which require to install and sometime to repair a cellar door in Brooklyn New York.
New basement Door Brooklyn
We installed basement steel doors in Brooklyn more than 20 years ago, and many of the cellar doors we installed 20 years ago are still there, being used every day. The cellar doors are in good condition, and beside yearly basic maintenance (And colored) they do not require any service or repairs. The qualities of the steel cellar doors is that the doors can last for many years, and require just basic maintenance. We install all types of cellar doors, from commercial basement cellar doors in Brooklyn, to new roll up door in Staten Island, Brooklyn Garage Doors And Gates can help you get the cellar door you need.
There are many companies who offer to install cellar doors in Brooklyn. Some of them are professional, and some doesn't have the experience and the knowledge that commercial steel cellar doors in Brooklyn require. We supplied and countless steel doors in Brooklyn over the years, and customers reviewed the quality of the service we provided them. We supplied garage doors, overhead doors, rolling gates and more, and we always delivered high quality service. Whether you need new cellar door installation, commercial garage door repair, or even new roll up steel gate, we can help.

Which basement door is the best in Brooklyn?
During our door services in Brooklyn, customers ask us often being asked which cellar door is the best, and we will answer the same way we answer every time we are being asked: the best cellar doors are the high quality doors. We know that is probably not the answer you wanted to hear, but this is the most honest answer we can give you. When you consider the fact that basement cellar doors in Brooklyn New York (from the high quality type of cellar doors) can last 20 years and more, it is easy to understand why investing in high quality doors is the right investment. You can choose if to invest 700$ or 1200$, it is up to you. But when you buy a 1,400$ cellar door for your basement in Brooklyn, and you get a door that you can use on a daily base for more than 20 years. To purchase the 700$ cellar door, that will last for 5-10 years, and during that time will require few repairs (Like welding the hinges), you will find that the door that cost you 700$, ended costing you 3,000 $ after 20 years, when if you would choose to purchase the high quality cellar door that cost 1,400$, you would still pay the same amount after all those years. (Not to mention the time that you would save when you were searching for a welder in Brooklyn to fix the cellar door for you, and wait for him to arrive).
Now that we explained the differences between the doors, you can easily see why it is better to invest in high quality doors, whether it is garage door installation in Queens NY, or cellar door repair in NYC, invest in high quality door, from strong materials, and get a door you will be able to use for many years.
Steel cellar doors installer Brooklyn NY
Getting a new cellar door, whether in Brooklyn, in the Bronx, in NYC or anywhere else, is combined from 2 parts: The cellar door itself (including the frame) and the installation job. Just like any type of iron work, whether it is a garage door repair in the Bronx, or overhead door repairs, cellar doors also require certain skills in order to perform a professional installation.
The cellar doors may seem basic and simple to operate, but to be able to build the frame, to weld the hinges and balance the door's wings and balance them require knowledge. Knowledge that only years of repairing garage doors and gates in Brooklyn can teach. Locate the right contractor, make sure that he knows how to deal with cellar doors and with basement steel doors, and make sure that you are getting high quality cellar doors made from strong steel. Once you will get both, a good and strong door, combined with professional installation, you can be sure that you got a high quality door.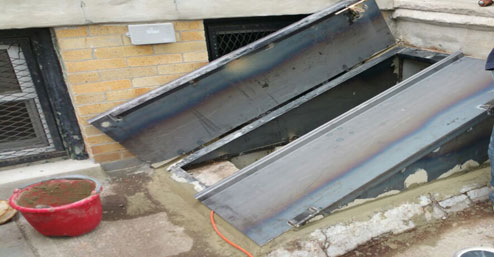 Can I build and install cellar door by myself?
In the doors and gates services, and it can be a caller door in Brooklyn, or garage door Nyack New York, the doors are divided into 2 different kinds: The residential doors and gates and the commercial doors and gates. If you need residential ce3llar doors for your home basement, you may be able to purchase cellar doors, and with basic knowledge and with following online door repairs DIY tutorials, you may be able to complete the installation by yourself. But if you need custom made commercial cellar doors, like most stores in Brooklyn New York use as basement doors, you may want to consider contacting a contractor in Brooklyn who specialize in Iron work and basement steel doors.
If you do choose to install the cellar doors by DIY, please follow safety guidelines that every DIY door repair include, whether it is roll down store front gate repairs, or steel basement cellar  door installation, always stay on the safe side, and avoid any unnecessary risks, that may put you in danger. No cellar door in Brooklyn worth your health. Installing basement steel cellar doors, whether in Brooklyn or someplace else in NYC require use of power tools, that can be dangerous and even deadly when they are being used in the wrong way. If at any pint during the installation you are not sure what the next step will be, or what need to be done, call a contactor in Brooklyn who specialize in iron works and cellar doors to come and complete the installation for you. There is only one way to install new cellar door in Brooklyn, and this is the right way. Any attempt to skip parts in the installation, or leaving gaps between the doors, or misplacing the hinges, can end with a broken cellar door.
No door, gate or any other DIY home improvement worth your health and your safety! It may be a broken garage door repair Bronx New York, or cellar door installation in Brooklyn, always make sure that you have the tools and the knowledge for the job you are about to make. Custom made cellar doors installation require welding. And if you choose to repair or build and install the door by yourself, and not to use a welder in Brooklyn for the door, know what you are about to do, and if any question or uncertainly appear, stop, and ask a pro.
Custom Made Basement Cellar Doors Brooklyn
We can repair, maintain, install and supply any kind of steel door or gate in Brooklyn.  We offer commercial and residential services, and to us it doesn't matter if you need new cellar door in Brooklyn, or garage door repairs Staten Island, because we can perform the job. Brooklyn Garage Doors And Gates can create for you any basement steel door that will get you the door you want. There are different basements entrances, and there are different cellar doors, and we can do all of them. Flat, standards size, or custom made, we can provide you with high quality, strong, in the shape and the color you desire. We supplied and install many custom made basement cellar doors in Brooklyn, and we can provide you with high quality cellar doors. When you purchase cellar doors from us, you get the door and the installation from the same company. Which make us guarantee for the full completion of the project from A to Z.
So if you wonder if we can or cannot do it, know one thing, as long as we do not break ant safety law, there is no gate or steel door Brooklyn Garage Doors And Gates can't repair or install.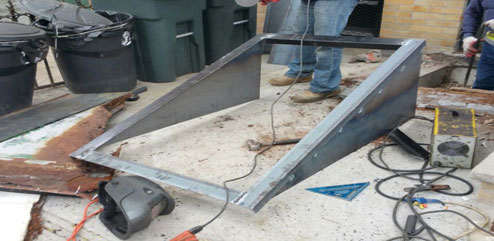 Basement door maintenance Brooklyn NY
Just like other top quality steel gates and doors, high quality cellar door can last for 20 years and more. But the door will not last that long if it is not being taking care of often. The maintenance process of cellar steel doors isn't complicated, and with few basic steps you can make sure that the doors will remain strong, and that you will be able to use them whenever you need to access your basement. As you know, the weather in NYC isn't friendly to gates and steel doors, and maintain them is the only way to protect the basement doors from the damage that the weather in NYC can cause.
The cellar doors maintenance:
At least once a year check your steel cellar door in to make sure that there are no broken or lose parts. Lubricate the hinges to smooth their movement, and to protect them from weather damages. If you notice a problem, do not ignore it, you do not want to find yourself facing a broken cellar door, that can prevent from you easy access to the basement. In that case, neglecting the need of cellar doors for basic maintenance can cost you a lot of money, since you may need emergency repair. If there is something wrong with your basement door, you can contact us for same day cellar door repairs in Brooklyn. Ignoring a problem may cause problems in the future, when you basement will get water and moisture since the door is not aligned.  We saw basements in Brooklyn flooded, since the owner of the cellar doors did not address problems on time.

Check the locking system of the cellar door and the parts that hold the locks. If you see damage, or broken area, it is possible that someone tried to break the lock or the door in order to enter the basement. Some cellar doors need to be reinforced to improve the security of the basement. There many ways to improve the security level of cellar door in Brooklyn, and we can help you with that. We offer security solutions, and we will help you secure your store, and make it close to impossible for unwelcome people to enter your premises.

Like many things, a small problem usually turn into a bigger one. If you noticed something wrong with the door, the frame, the concrete, the lock or anything else, contact someone who fix cellar basement doors in Brooklyn to repair it for you. You do not want to find on a snowy day that the door can't be closed or open. This goes for every type of door maintenance, and not necessarily for the cellar doors. It can be overhead garage door maintenance, or roll up gate maintenance in Brooklyn, never ignore a problem, no matter how small the problem is.
In case your basement door doesn't open
If you can't open your basement door in Brooklyn New York, it can be due to several reasons, it can be a problem with the cellar door itself, or a problem with the lock. Whatever the problem is, we can help you. And not only that we will open the door for you, will we repair it for you as well. We have same day service for steel cellar doors, overhead garage doors, commercial doors and rolling gates. All you need to do to get your basement door repaired today call us for same day repair service.
We are ready for any kind of service call in all 5 boroughs and around NYC. You may need broken garage door repair, basement cellar door break in, locksmith service, or even roll up door repairs, we can help.
Our Basement cellar doors service in Brooklyn New York:
Security steel door repairs Brooklyn.

Emergency repair for cellar door in Brooklyn.

Basement steel door repair Brooklyn.

New cellar door installation in Brooklyn New York.

Lock installation and replacement.

Commercial steel door service in NYC.

Cellar door maintenance Brooklyn.

Custom made basement steel doors in Brooklyn.

New steel cellar doors in Brooklyn New York.

Steel door welding service in Brooklyn.

Basement steel rolling door repairs in Brooklyn.

Iron works in Brooklyn New York.
For Cellar Doors in Brooklyn New York
Call Now: 347-246-5552